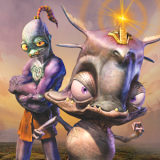 Im Google Play Store erhaltet ihr Oddworld: Munchs Oddysee gerade für 0,10€.
Der Normalpreis liegt bei 2,99€
Bewertung: 4,6/5 Sterne
Beschreibung:
Play as the Gabbit with odditude, Munch, and his side-kick, Abe, as they lead a revolution against the conniving, corporate clods of Oddworld. Munch has been captured, poked, probed and generally violated by the greedy corporate sickos, the Vickers, and now it's time for him and Abe to turn the tables. Power up with Vendo Machines, use psychic powers to possess enemies and machines, arm yourself with oddball Vendo weapons, and rally Oddworld's wacked-out inhabitants (via GameSpeak) to stick it to the Vickers and save the day. C'mon. The fate of Oddworld is in your hands.
Einen Kommentar schreiben