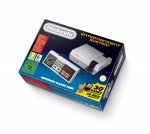 Update: Mit dem Gutscheincode: SPAREN16 kommt ihr auf 50€
Die Versandkosten entfallen als Neukunde oder bei Zahlung per Sofortüberweisung.
Das wichtigste im Überblick
• Der Klassiker neu aufgesetzt
• 30 vorinstallierte Spiele
• inkl. Controller
Alle Informationen
Das klassische NES ist in altbekannter und doch brandneuer Form zurück, als Mini-Nachbildung von Nintendos beliebter TV-Konsole. Mit dem enthaltenen HDMI-Kabel lässt sich das System direkt an einen hochauflösenden Fernseher anschließen und fesselt Videospiele-Fans sogleich mit 30 bereits vorinstallierten Spielen – darunter auch Favoriten wie Super Mario Bros., The Legend of Zelda, Metroid, Donkey Kong, PAC-MAN und Kirby's Adventure.
Einen Kommentar schreiben