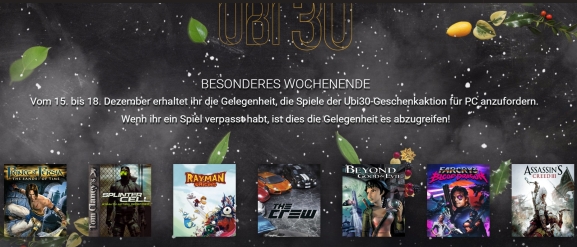 Vom 15. bis 18. Dezember erhaltet ihr die Gelegenheit, die Spiele der Ubi30-Geschenkaktion für PC anzufordern.
So gibt es aktuell folgende Spiele gratis:
Prince of Persia
Splinter Cell
Assassin's Creed III
Far Cry: Blood Dragon
Rayman Origins
The Crew
Beyond Good & Evil kostenlos
Hinweis: Die Spiele erscheinen in eurem uPlay-Account. Es handelt sich um Vollversionen, die uneingeschränkt spielbar sind.
Ein Kommentar zu "[Download] 7 Ubisoft Titel (Prince of Persia, Splinter Cell, Assassin's Creed III, Far Cry 3: Blood Dragon, Rayman Origins, The Crew und Beyond Good & Evil) [PC] gratis @ ubisoft.com"

#

maik

am 16.12.2016 um 10:40

warum soll mann the crew immer noch kaufen obwohl mann es in der zeit geholt hat wo es gratis verteilt wurde soll trotzdem the crew kaufen

Einen Kommentar schreiben